Information about paying for HALAVEN®
HALAVEN $0 Co-Pay Program*
Learn if you are eligible for the HALAVEN $0 Co-Pay Program, which may be able to help you with the out-of-pocket costs of HALAVEN.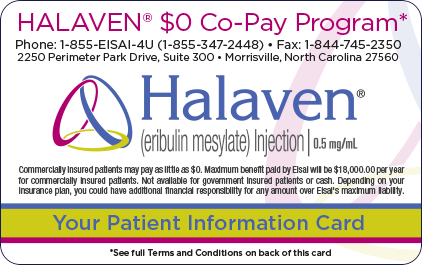 The Eisai Assistance Program
Eisai, the maker of HALAVEN, offers additional support through the Eisai Assistance Program (EAP). This program provides eligible patients and caregivers with insurance information and financial support for HALAVEN. Eisai cannot guarantee coverage.
The EAP can help you
Understand how your therapy may be covered by your insurance
Understand your out-of-pocket cost, which is the part you pay for and can include co-pays, co-insurance, or deductibles
Identify sources of potential coverage if you do not have insurance, including eligibility for the Eisai Patient Assistance Program (PAP)
*The HALAVEN $0 Co-Pay Program assists eligible patients with the out-of-pocket costs of HALAVEN (up to $18,000 per year). Restrictions apply. Visit www.eisaireimbursement.com/patient/halaven to see the full terms and conditions, eligibility requirements, to learn more about the program, and to download an enrollment form. Eligible commercially insured patients may pay as little as $0 per month, with an annual limit of $18,000. See www.eisaireimbursement.com/patient/halaven for complete eligibility requirements and terms and conditions
LEARN MORE ABOUT THE HALAVEN $0 CO-PAY PROGRAM BY CALLING 1.855.EISAI.4U (1.855.347.2448) MONDAY-FRIDAY, 8 AM TO 5 PM, ET
LEARN MORE ABOUT THE EISAI ASSISTANCE PROGRAM FOR HALAVEN BY CALLING 1.866.61.EISAI (1.866.613.4724) MONDAY-FRIDAY, 8 AM TO 8 PM, ET
OR BY VISITING WWW.EISAIREIMBURSEMENT.COM/PATIENT/HALAVEN